Welcome to the little Fetishworld of Godess Avengelique
A very warm welcome to all of you my fellow doms and dominatrixes, ladies and godesses
and also to all you little slaves, subs and other perverts :-D
Godess Avengelique, the High-Class Fetishgodess
Sadistically dominant I'm living my passion for heavy rubber, latex, corsetts, nylons as well for (gas)masks,
high-heels, boots with slaves and fellow guestmodells.
As untouchable, strict, consequent and unpredictable a dominatrix should be i'm full of fantasy, caring, humorous and extroverted at the same time.
A dominatrix with a mind of her own and well-formed feminine curves. Authentic and responsible.
Take a look at my clips and be a part of the little journey to my bizarre fantasies. I'm shure you'll find the right ones for you

If you're interested in a customclip don't hesitate to contact me with your ideas and we'll see what can be realized.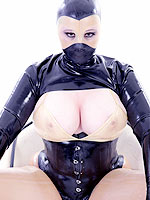 Datas:

Lady Avengelique:
born: September 10th 1980
Heights: 1,68 cm - 5"8
measurements : 102 - 73 - 92 cm/ 40"- 29"- 36"
Shoes: 38 - UK 5-6 US 8
Brasize: 36 H /38 G
Size : 46 - XL- XXL UK 18-20
Eyes: Brown - Glasses
Hair : Blonde
Preferences / Fetish: Latex, Masks, Gasmasks, High heels, Wetlook, PVC, Nylons,
Preferences/SM: Flagelation, Bastonade, Electricity, Mummy, Military Drill, Petplay, CBT, Nippletorture, Facesitting, Breathcontrolle, Wax, Clamps, Needls, Bondage, Transfomation

You like to make your Mistress a gift ? Visit my Wishlist
https://www.amazon.de/gp/registry/wishlist/1LR98PFBGW7OX/ref=nav_wishlist_lists_1

Visit Avengelique on her Webcam : https://de.mydirtyhobby.com/w/Avengelique